Stuffed Mushroom Caps Recipe with Savory Mushroom Pate
29

This stuffed mushroom caps recipe is a raw recipe and the stuffed mushroom caps are dehydrated to soften them. However, these can also be cooked in the oven, if you don't have a dehydrator. The savory mushroom pate is a delicious pate on it's own, but I love it in these stuffed mushroom caps. Dehydrating will leave you with vital enzymes, which is always great. But these tasty stuffed mushroom caps will taste truly delicious prepared either way! 
This stuffed mushroom caps recipe is adapted from one in my book, The Joy of Living Foods. Slight changes have been made as I didn't have pine nuts or cilantro on hand when I wanted to make these, and so I improvised. I love both pine nuts and cilantro, but it's hard to go wrong with recipe. This recipe tastes equally great, and is adaptable so add and substitute your favorite spices and herbs to make it work great for you!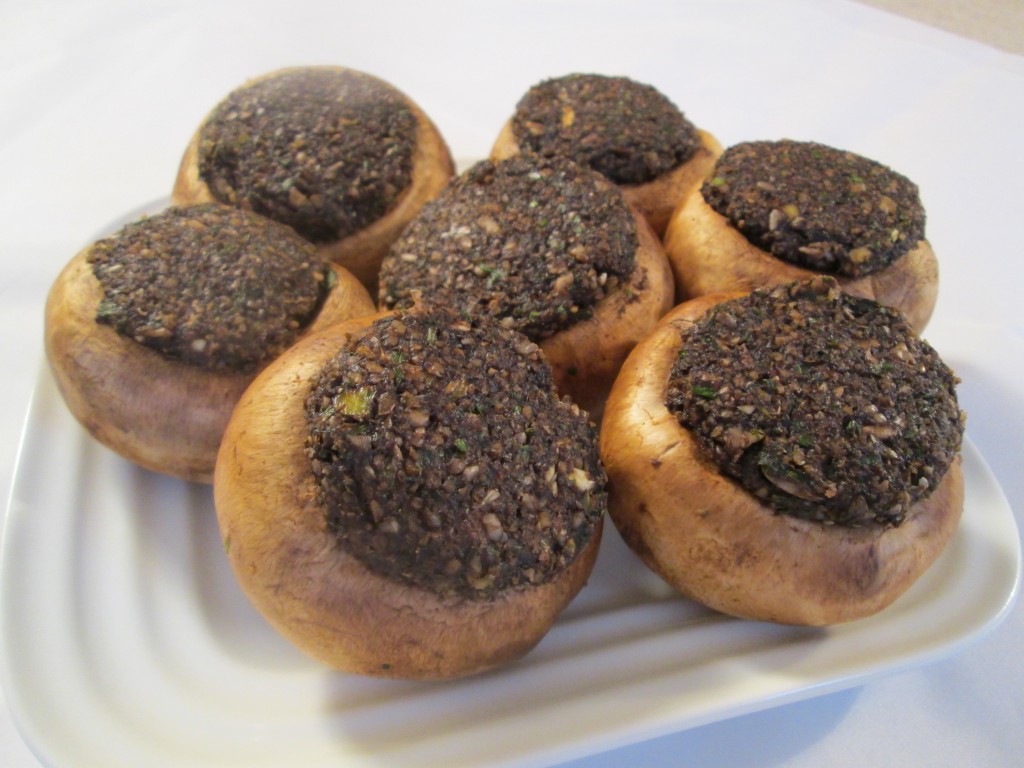 Stuffed Mushroom Caps Recipe with Savory Mushroom Pate
Ingredients
16 Crimini or White Mushrooms, or 8 larger Stuffer Mushrooms
Marinade:
2 T Lemon juice
2 Tbsp Tamari
Savory Mushroom Pate:
½ cup Sunflower seeds – soaked and drained
½ cup Walnuts
Reserved stems from Mushrooms
¼ cup Parsley, or Cilantro, destemed
3 Green Onions – chopped
1 Garlic clove
1 tsp Ginger, fresh or dried
1 Tbsp Tamari
½ tsp Cumin
½ tsp Black Pepper
Salt to taste, if desired
Directions
Marinate mushrooms in the lemon juice and tamari for one hour. If you are using larger mushrooms it is best to marinate longer than for smaller mushrooms.
Process all of the pate ingredients together in a food processor until a smooth pate texture is formed. Remove mushrooms from marinade, stuff with pate and dehydrate for 2 or more hours. Smaller mushrooms will be ready in 2 hours, but larger stuffer mushrooms will take longer, up to 4 hours to soften.
Remove from the dehydrator aserve. These go well with a bog salad on the side!
Check out some great salad ideas from my list of awesome, delicious healthy and vegan recipes here!
Photo Descriptions
Assemble mushrooms and marinade ingredients.

Remove stems from mushrooms.

Marinate the caps in lemon juice and tamari marinade.

Assemble the savory mushroom pate ingredients.

Peel garlic and ginger, chop herbs and green onions and then add all ingredients to a food processor.

Process until chopped into very fine, slightly chunky, pate.

Evenly distribute pate and pack into mushroom caps with a spoon.

Dehydrate until mushroom caps are softened.

Ready to serve. These are delicious and go great with a big salad on the side!
Enjoy!
To your health, Robin