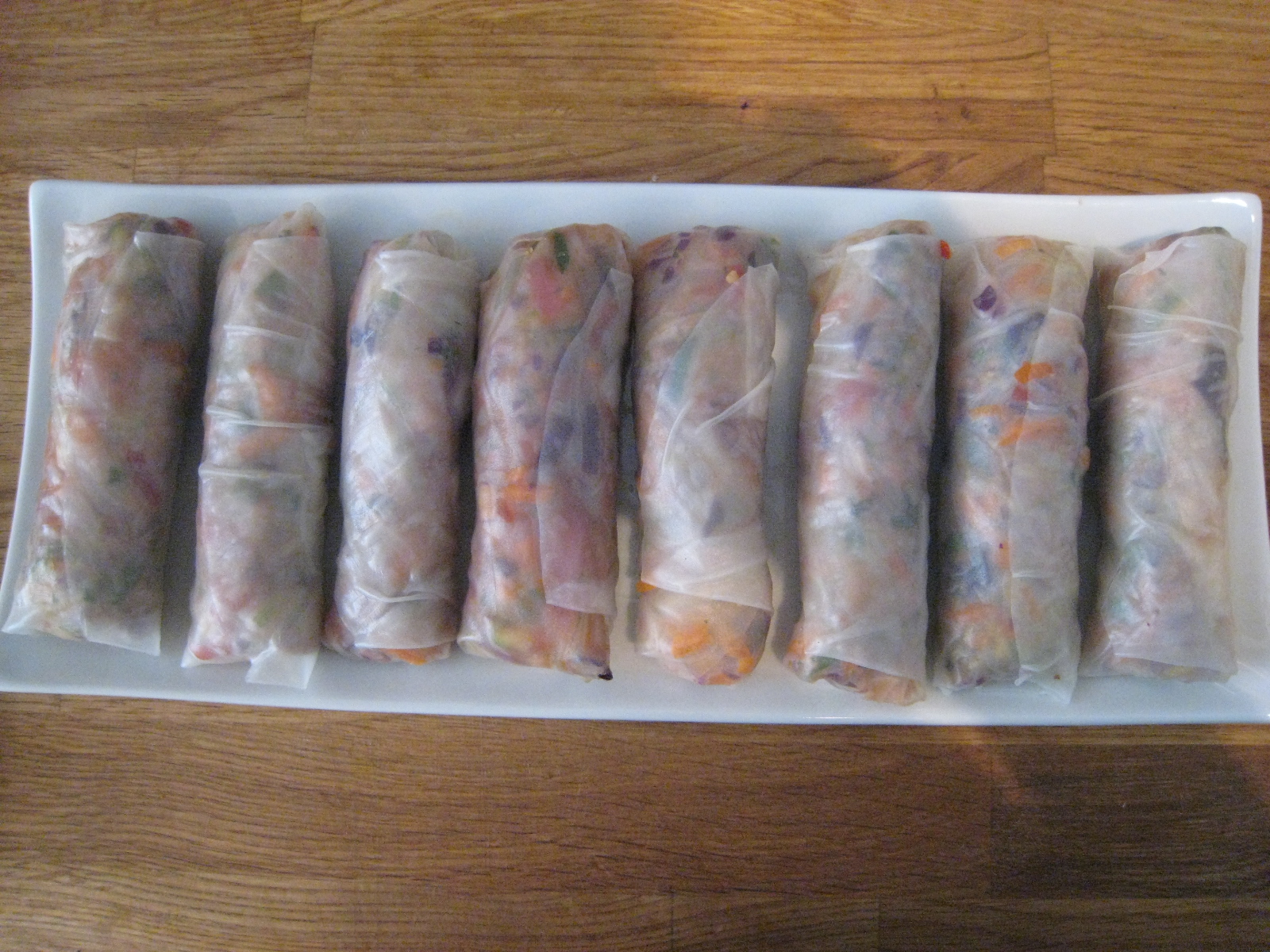 These spring rolls are filled with vegetables and some of my favorite herbs: basil, cilantro and mint and flavored with ginger and sesame. They are delicious. Let me show you how to roll your own!
Spring Rolls
These delicious spring rolls are great to make for a group of people. The vegetable filling mixture can be pre-made and stored in the fridge for 1 – 2 days, so they can be rolled and eaten whenever desired.
Ingredients
10-12 Rice paper wrappers (not raw) or Collard or soft Lettuce leaves
2 c Zucchini – grated
2 c Carrots – grated
1 c Purple Cabbage – sliced finely
½ Red Pepper
2 Green Onions – finely sliced lengthwise and cut into 2" strips
1" Ginger – finely minced or grated
10 Mint leaves – chopped
¼ c Basil leaves – chopped
¼ c Cilantro leaves – chopped
1 T Sesame Oil
1 T Olive Oil
1 t Salt
Directions
Mix all ingredients except the rice paper wrappers together in a big bowl. To soften rice paper wrapper: place the rice paper under warm water for 5 seconds until it starts to soften. Lay flat and place ¼ cup of vegetable mixture in middle but closer to the bottom, fold up bottom of wrapper around it, roll up a little, then fold in sides and roll up tightly. For collards cut into a 6×6 square and roll the same way. Serve with Nama Shoyu or Tamarind Dipping Sauce.
The recipe makes approximately 24 rolls.
How to make the Spring Roll Filling
Rice Paper and How to Roll the Spring Rolls

Ingredients to make spring rolls above and filling all made below.

My favorite spring rolls. I love these served with Tamarind Dipping Sauce!

To your optimal health! Enjoy!