Raw Vegan Ice Cream Recipe Flavor of the Day: Maple Pecan
15

This raw vegan ice cream recipe is the ultimate ice cream recipe, of maple pecan that is. Raw vegan ice cream is simply amazing. Firstly and importantly, it is claimed by me, and by hundreds of others that I have served it to, to be the most delicious ice cream ever! It tastes fresh, sweet and delicious. It has a smooth and creamy texture, and best of all, it is dairy-free and actually healthy, made with very nutritious ingredients.
The Base
The base of this vegan ice cream recipe is young Thai coconut and cashews, both of which have a very light subtle taste. They make a great canvas or base, and bring out the flavors of the other ingredients that are added for flavor.  Young Thai coconuts are young coconuts. The meat inside of them is soft and can be anywhere from a transparent, barely there, jelly when they are very very young to a thicker soft meat. The soft meat can be spooned out and gets thicker and denser as the coconut matures, until it reaches the stage of the hard brown coconut with it's very hard coconut meat. The younger the coconut meat is, the less flavor it has.
Young Thai Coconuts
Generally, these young Thai coconuts can be found in 2 ways: fresh or frozen. In Canada, where they have to be imported, I usually only see them fresh in the larger cities: Toronto, Halifax and Vancouver. Where I am living I can't buy them fresh and my only alternative is to buy it frozen, or substitute. Frozen coconut meat is packaged and distributed by many companies, which all seem to put in different additives. Some put sugar in, some put preservatives.  The only place I have seen it without any preservatives is from Upaya. To check that out, click here.


The ingredients to make this ice cream and not cheap. It uses pure maple syrup as the sweetener and with the coconut and cashews the cost can add up. Granted, it is a little splurge, but to me eating ice cream is an indulgence. It's not something I do every day. Although I can be tempted when it's around, especially since I know what is in this and it is made with all super nutritious ingredients.  With this, a little goes a long way. It is creamy, dreamy decadence.. and we are worth the best.  Right. Now on to our ultra delicious maple pecan raw vegan ice cream recipe!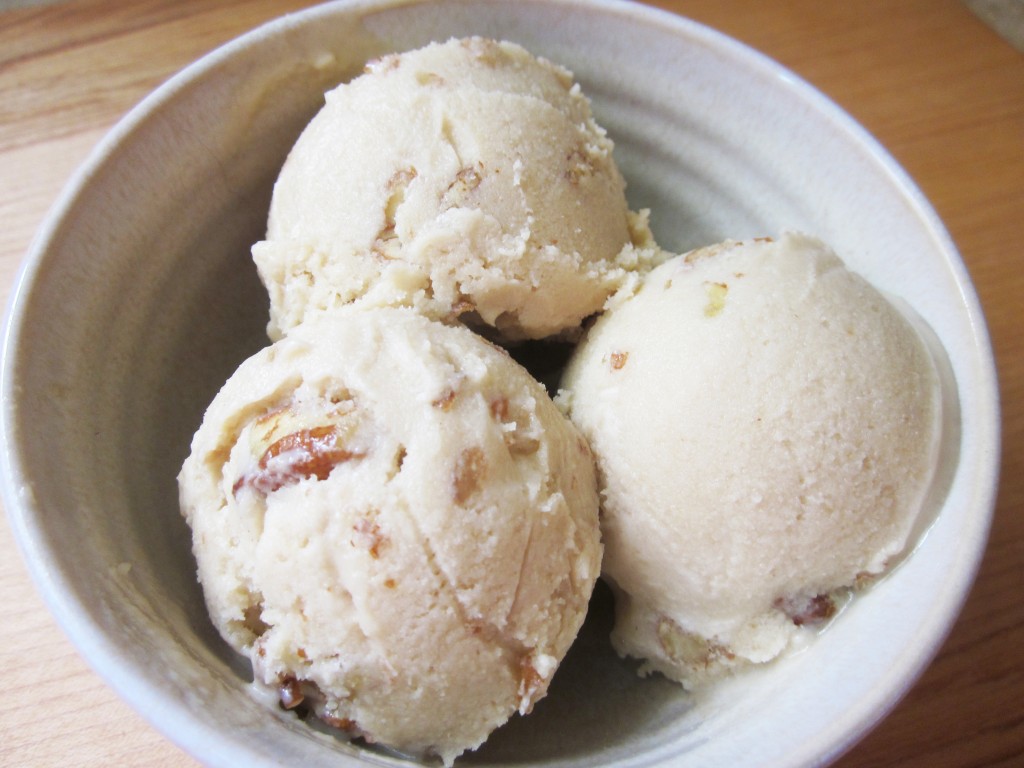 Maple Pecan Raw Vegan Ice Cream Recipe
Ingredients
2 cups Cashews – soaked – see option * below
1 cup Pecans – chopped
1 cup Young Thai Coconut meat
2 cups Water
2 cups Maple Syrup
1 Tbsp Vanilla
Option * Cashews can be substituted with Almonds which have been soaked (at least 4 hours) and blanched.
Directions
Blend all ingredients, except pecans until the mixture reaches a smooth and creamy consistency. Transfer mixture to an electric ice cream maker and process according to manufacturer's instructions. When ice cream is hardening up and looks finished, at about 45 to 50 minutes, add the pecans and let the turning arm distribute them throughout the mixture for 5 minutes. Then turn machine off and transfer to containers (glass being preferable to plastic) and then set containers into the freezer.
Vegan Ice Cream Recipe – Photo Description
Assemble ingredients

 Soak cashews, and then drain before using.

 Blend all ingredients together.

Pour blended mixture into your frozen container.

Then put in the turning arm and cover and turn it on. This machine is really easy to use and takes less than an hour to make ice cream.

While it is freezing chop pecans.  I got a workout in too! Raw foods give you lots of energy! 🙂

Add the pecans 5 minutes before ice cream is finished. When ice cream looks finished and mixture is hardening, add the pecans then.

The turning arm will distribute them through the mixture.

  Transfer ice cream into a container to freeze. Glass or a food grade plastic is best.

 Set containers into freezer. You can eat right away, but it is a little soft. For hard ice cream freeze at least an hour and then it is ready to serve.

Enjoy!  To your vibrant radiant health!