Quinoa Cakes Recipe with Sweet and Hot Lemon Garlic Sauce
15

This quinoa cakes recipe came about from just seeing a title on a magazine. I googled the recipe when home, but the one I found had lots of ingredients I didn't want. I was in a mood for something fried. It happens sometimes, not so often, but this presented a challenge, to combine really healthy ingredients, vegan and fried into something really delicious and as healthy as possible. Based on that, especially the delicious part, this was a big success. 
This quinoa cakes recipe is completely different from the one I read. They used eggs to hold it together but using ground chia seed to hold the ingredients together worked equally well and flax would work as well. I am just really into chia these days, and am eating a lot of flax in crackers. Flax and chia have a similar very high nutritional profile, but they contain different nutrients. It's nice to change it up and get a variety. You soak the ground chia in some water for it to gel up and then it works great as a binding agent to hold other ingredients together. Quinoa really needs something to bind it as it doesn't hold together well on it's own at all.
I had an abundance of parsley so added lots to the recipe, but it get's completely lost in with the other, also super healthy ingredients. That and the red pepper make it really pretty, like confetti. It's like a party in your quinoa cake!   However, I felt these quinoa cakes needed a sauce, something savory and this sweet and hot lemon garlic sauce made with coarse mustard was a perfect accompaniment with them, along with a big salad of course!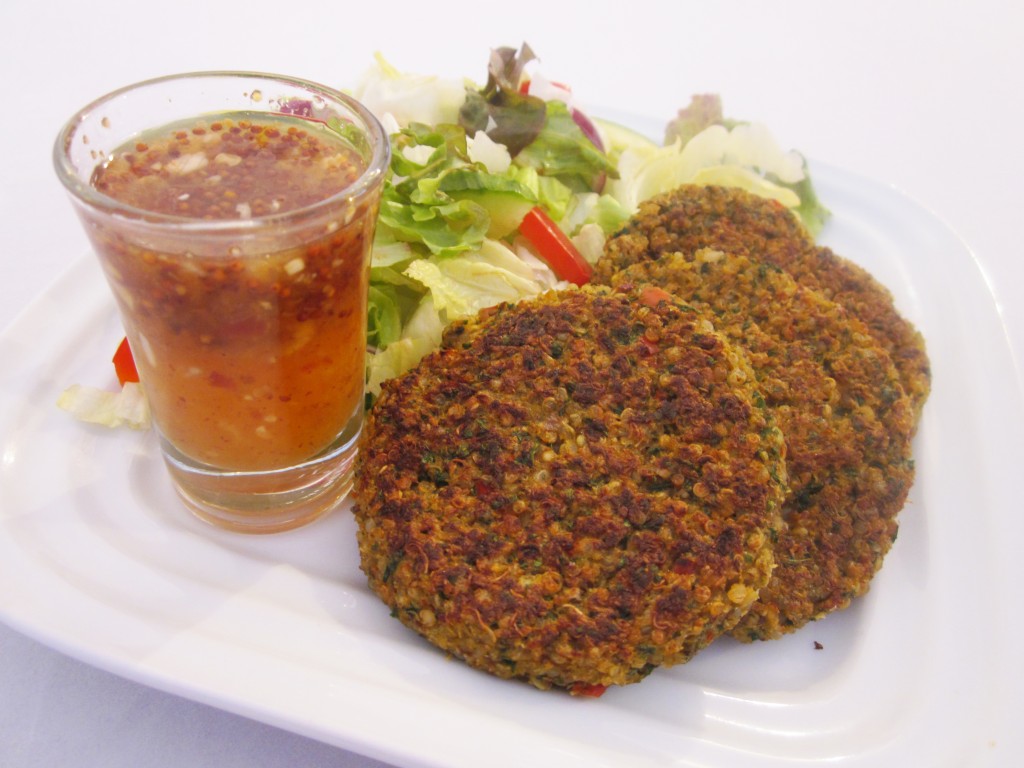 Quinoa Cakes Recipe
Ingredients
1 cup Quinoa (I used 3 cups cooked quinoa in the recipe and had a little left over. See note below)
1 cup Parsley
½ cup Chia – ground
¼ cup Pine Nuts
¼ cup Onion
¼ Red Pepper
3 Tbsp Nutritional yeast
1 Tbsp Tamari
1 Garlic clove
½ tsp Salt (optional)
Directions
Cook quinoa. Quinoa is cooked much like rice. Simmer 1 cup of quinoa in 2 cups of water until water is gone and quinoa is cooked. You can cook it in vegetable stock for more flavor. After the quinoa is cooked, drape a clean tea towel over the top of the pot. This will absorb moisture and you will have fluffier quinoa.
Note from testing – I was going to use 2 cups of quinoa in the recipe. There are only 2 cups showing in the ingredient photo below, but I decided last minute to add an extra cup to the recipe, as I had some left over. I often make a little extra when I make it as left over quinoa is an easy thing to use up. It is great added to a salad, a stir fry or many other dishes.
Place ground chia in a small bowl and add one cup of water. Stir and set aside while you chop the onion and red pepper.  By the time vegetables are chopped the chia will most likely already be thickened up. This is what is going to bind the quinoa and ingredients together.
Place the chia, parsley and chopped vegetables in the food processor and process until small uniform size chunks. Add the rest of the ingredients, except quinoa and process again until everything is broken down into little pieces. Then the safest method is to transfer this mixture to a bowl with the quinoa and stir to mix it well together. My quick method is to add the quinoa to the processor and pulse chop it lightly together just until blended. Be careful if you do it this way not to over process. It's best if the quinoa keeps its characteristic quinoa shape.
Heat the frying pan and add a little coconut oil. Then drop quarter cup amounts onto pan and flatten with the bottom of your flipper (aka spatula, but it's totally confusing to have 2 different utensils both called a spatula, so I will call the one you flip burgers or patties with a flipper, and the rubber one used to clean out bowls a spatula). Cook patties until golden brown on each side and then transfer to a plate.
While you're frying (or before) you can make the awesome sweet and hot lemon garlic sauce to go with them. It is really good!!

Sweet and Hot Lemon Garlic Sauce
Ingredients
¼ cup Agave, or Honey or Maple Syrup
2 Tbsp Lemon juice
2 tsp coarse or stone ground French Mustard – see note below
1 Garlic clove – minced
½ tsp Sambal Oelek or other favorite hot sauce
Directions
Put all of the ingredients in a bowl and whisk together together, or blend together in a blender.
Note on mustard – I had a coarsely ground mustard that I tried and really liked with these recipes. We have about 5 different varieties of mustard in our fridge and most would have worked well. I would not have used our Pommery mustard (very vinegary) or a common yellow mustard (not sure how that even got into our fridge? ; ) but the Dijon, wild or other mustards would work well. A Dijon or other smoother grained mustard would work as an emulsifier and so the sauce would not separate when whisked or blended together, which would be nice as well. I considered it, close.
I liked the grain and texture of the sauce how I made it and would make it this way again. Have fun experimenting. Start with what you have on hand. The hot (sambal), sour (lemon) sweet (agave) and savory (mustard-garlic) give a wonderful flavor together that excited the taste buds and work very well together.
Photo Description of the Quinoa Cakes Recipe
Cook the quinoa and assemble ingredients

Put chia in a bowl with water, so that it will create a gel and chop veggies a bit. The processor will do most of the chopping.

Put all ingredients except the quinoa into a food processor.

Process until it is well broken down like this. I's nice if there are still little pieces of red pepper and parsley, so don't process too much.

You can mix this with the quinoa in a bowl, but I pulse chopped it in by turning the processor on and off quickly a few times, just enough to mix the quinoa in without breaking it up too much.

Heat a pan. I used a little coconut oil. Then drop patties into pan. I measured out quarter cup measurements and then flattened the patties right in the pan with the back of my flipper.

Leave a minute or so and then flip. They should be lightly golden like this.

Serve with a big salad. While they were frying i mixed up the sauce to go with them.

Gather ingredients for sauce.

Mix together in a bowl. Then serve with the quinoa cakes and a big salad. Delicious!!

Hope you enjoy! Bon appetit!!
With love, Robin