Making Zucchetti aka Zucchini Noodles
28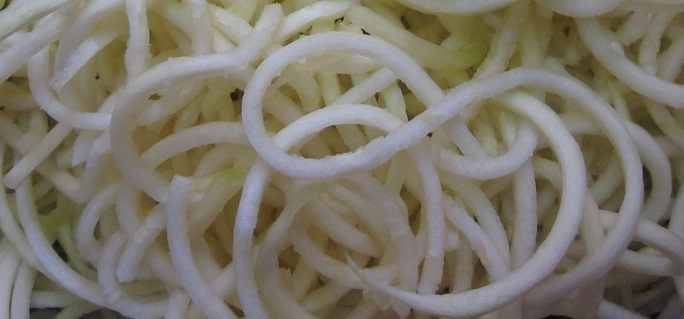 In raw cuisine Zucchini is transformed into pasta usually and simply by using a vegetable spiralizer. Any solid firm vegetable can be spiralized and used, root vegetables such as carrots and sweet potatoes also work very well, experiment with lots of different vegetables such as cucumbers, daikon radishes and other squash varieties.
If you do not have access to a spiralizer you can easily make linguini pasta with a vegetable peeler. Peel the outer skin of the zucchini, throw away this part or save for juicing, and continue peeling long strips using the vegetable peeler – Voila, zucchini linguini! When pasta is made, place in a bowl and top with sauce, or toss together with sauce first and then place in bowl to serve. My favorite sauces for zucchetti are Tomato Marinara and Basil Spinach Pesto and both are extra delicious topped with Pine Nut Parmesan. (recipes coming soon!)
Spiral Slicers
My favorite spiralizer is the Spirooli. Sadly, it has been my experience that inexpensive ($25-35) spiralizers break easily and do not work very well. I have used both the Spirooli and the Benreiner spiralizers a lot and can recommend both. However the Benreiner is more expensive. I have seen, and have bought it, at twice the cost not having had a source for the other.  I now have both machines and rely on the Spirooli machine most. So for cost and functionality I can wholeheartedly recommend the Spirooli.
note:  Spirooli is its former name and now just goes by Vegetable Spiral Slicer. I only use the former name to avoid confusion.
The Vegetable Spiral Slicer, formerly named Spirooli is available here.
Both of these machines come with a straight blade and several attachment blades for various size noodles. Zucchini put through these machines with the correct blade makes incredible raw spaghetti. This is not the most essential item to purchase in stocking a raw kitchen but is definitely a great asset and fun to have.