Hong Kong Garden Soup Recipe
03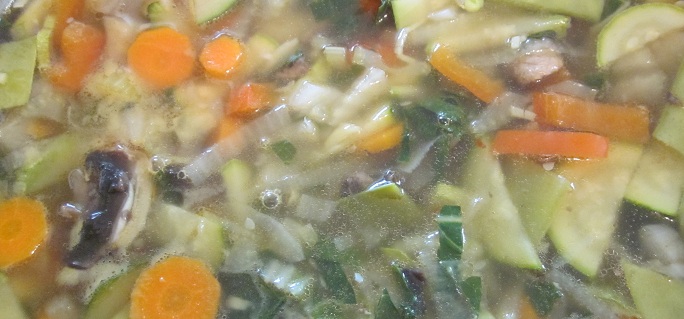 This soup is a version of a Hot and Sour Szechwan type soup. It is light on the Hot and Sour, which can easily be remedied if you like it stronger by adding more hot (sambal or chilies) and rice vinegar.
Some like it sweet also and so a tablespoon of agave or your favorite sweetener can be added if you like.
 Hong Kong Garden Soup
1 Onion
2 Celery stalks
2-3 Carrots – sliced (I used 6 very small ones)
12 Mushrooms – sliced or chopped
2 Zucchinis – halved and sliced
*1 cup Fennel – chopped
½ Red Pepper – chopped
1 Tbs Ginger – diced very small or minced
1 large clove Garlic – minced
3 Tbs Cornstarch – shaken in a bottle with ½ cup water
1 Tbs Tamari
1 Tbs Rice Wine Vinegar
1 t Sambal oelek – or chopped chilies, add more to spice it up if preferred
2 Bouillon cubes – optional – organic always best
*I just happened to have this much fennel left over in my fridge. Other vegetables can be substituted. Asian greens, such as bok choy, chopped up and added to this would be great also!
Add all vegetables and ginger and garlic to pot and cover with water. Bring to a boil then turn heat down to medium and let simmer for about half an hour. Soup can sit on low heat to keep warm for several hours and is often best the next day.
Making soup is a weekly ritual thing that Mom & I do together, usually on Saturdays after the market. Unless Karen comes over Fridays, if so, we'll do it for then. She loves our soup & we bribe her visits ; )
I usually choose vegetables, or both of us do..

Mom usually chops them up and puts them all in pot and gets it started..

I often choose and add the seasonings..

We create well together in the kitchen. This one is delicious!!

I hope you try and enjoy it! ..and let me know if so!