The Ultimate Hemp Protein Bar Recipe
13

This hemp protein bar recipe is my new favorite. I combined all of my favorite bar ideas: using lots of seeds in the recipe, using chia seeds to bind the fillings, favorite combinations and put it all together into what I think is my new masterpiece. It is not a simple bar recipe in that it has a lot of ingredients. But once you get those together, making them is easy and I will show you exactly how in the photo description below. This bar has a high protein content with Hemp and Brazil nuts, which are 2 of my favorite protein sources. Quinoa is also high protein and it is the puffed bag of quinoa, shown below, that also inspired this recipe. It is, however, the only ingredient that is not raw, and so if you want a 100% raw recipe, you can leave it out or substitute the quinoa with more seeds and/or coconut flakes. 
When I was thinking of making the Ultimate Hemp Protein Bar Recipe I was thinking of making an all raw recipe with vegan sources of protein and also of adding rice crisps or something similar to give it a crunch. The crunch is usually missing from raw bar recipes and texture is important, so it was a compromise. Therefore when I saw the quinoa puffs, I got excited as quinoa is another high protein source. I bought it and brought it home but when I went to use it yesterday in this recipe I discovered that the puffs are not like crisps. The texture, which perhaps I should have realized, is a little puffier and not so crispy. I wasn't sure how they would turn out, but tried them anyway and I am happy to report that the texture and effect is great! It is not the same as the crisps that I was going after, but equally good in a different way.  It makes the bar not quite so dense as it would otherwise be and is a good contrast to the chunks of nuts and chewy fruit pieces. I am really happy with these. And I have to admit that I ate 3 of them this morning already. At least they are a healthy superfood guilt-fee snack!!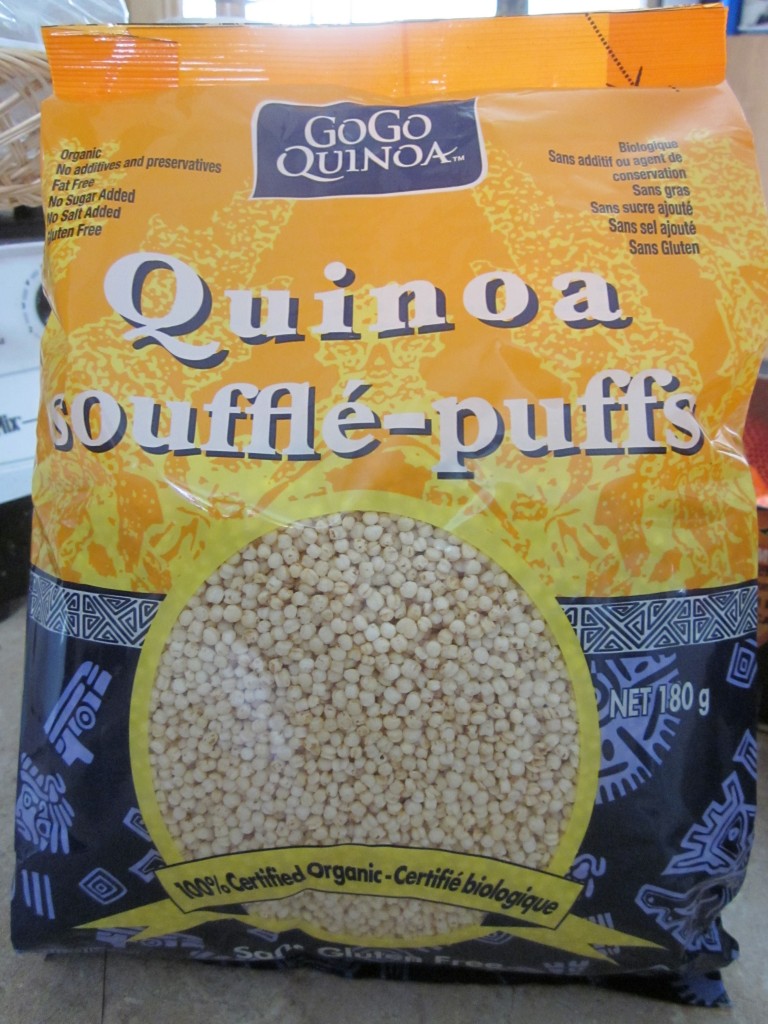 I am categorizing this under raw recipes, but it was a hard decision as quinoa puffs aren't raw. Still, it's easy to substitute them to make this 100% raw and this recipe is based on raw food principles: soaking seeds and dehydrating, so to me it is more like a raw recipe than a cooked one.
The dehydrator I have and use is an Excalibur 5 tray. I put the whole batch onto one tray, which is 14″ x 14″, and spread it out. You can check out dehydrators and other of my favorite kitchen tools on my Resource page.
All of the links below in the ingredient section go to information from my list of superfoods on that specific ingredient.  This recipe has a LOT of superfoods in it!
The Ultimate Hemp Protein Bar Recipe
Dry base ingredients:
1 cup Hemp Protein
1 cup Brazil nuts – ground
1 cup Walnuts – chopped
½ cup Sunflower seeds – soaked
½ cup Pumpkin seeds – soaked
½ cup Hemp seeds
½ cup Sesame seeds
1 cup Raisins – I used golden, mainly for color
1 cup Goji Berries
½ cup Dried Cranberries
4 cups of Quinoa puffs
Blended sauce ingredients:
1 cup Dates – soaked in ¾ cup water
½ cup Chia seeds
½ cup Almond butter
¼ cup Maple syrup (or Honey or Agave)
1 tsp Vanilla
1 tsp Salt (optional)
Directions
Soak dates in ¾ cup water. This is more important if dates are very dry and is just to make them easier to blend.
Soak pumpkin and sunflower seeds in a bowl with water covering. Just before using rinse and drain.
Chop walnuts into small pieces, but large enough to have substance to bite into, e.g. cut each half into approx. 4 to 5 pieces.
Grind up Brazil nuts in a blender. I left this a little chunky also – see photo below.
Assemble the rest of the ingredients.
Make sauce by blending all of the sauce ingredients together. Put the dates and their soak water along with the rest of the sauce ingredients and blend until you have a smooth paste.
Place the rest of the dry base ingredients in the bowl and pour the blended sauce on top. Stir to mix everything together well.
Transfer out onto a dehydrator tray with a teflex sheet on it, or if you do not have a dehydrator, transfer onto a parchment paper lined baking tray. Press down flat and score into bars. On the teflex I cut my bars into 8 x 4, making 32 bars.
Dehydrate for 2 to 3 hours, or heat in an oven on its lowest setting.  Flip over onto a mesh screen and continue dehydrating for another 2 to 3 hours.  If using an over, flip over in pan and heat for a little less time, for1-2 hours. I have not tried in the oven, so this is an estimate, but I feel confident it will work fine. Let cool before storing if they are warm from the oven after taking them out.
Place bars into an air tight container to store. Store at room temperature if they will be eaten soon; within a few days. Keep refrigerated any that will be stored for longer.  They are best eaten at room temperature.
Photo Description
Assemble ingredients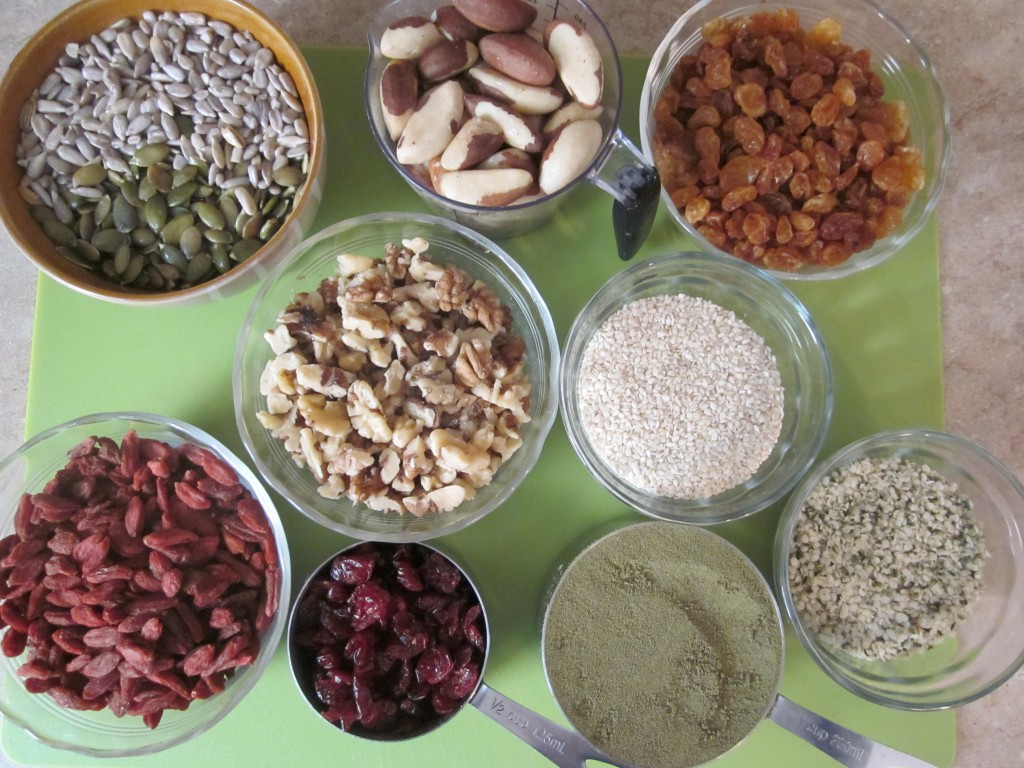 Dry ingredients above, along with quinoa puffs, and sauce ingredients below.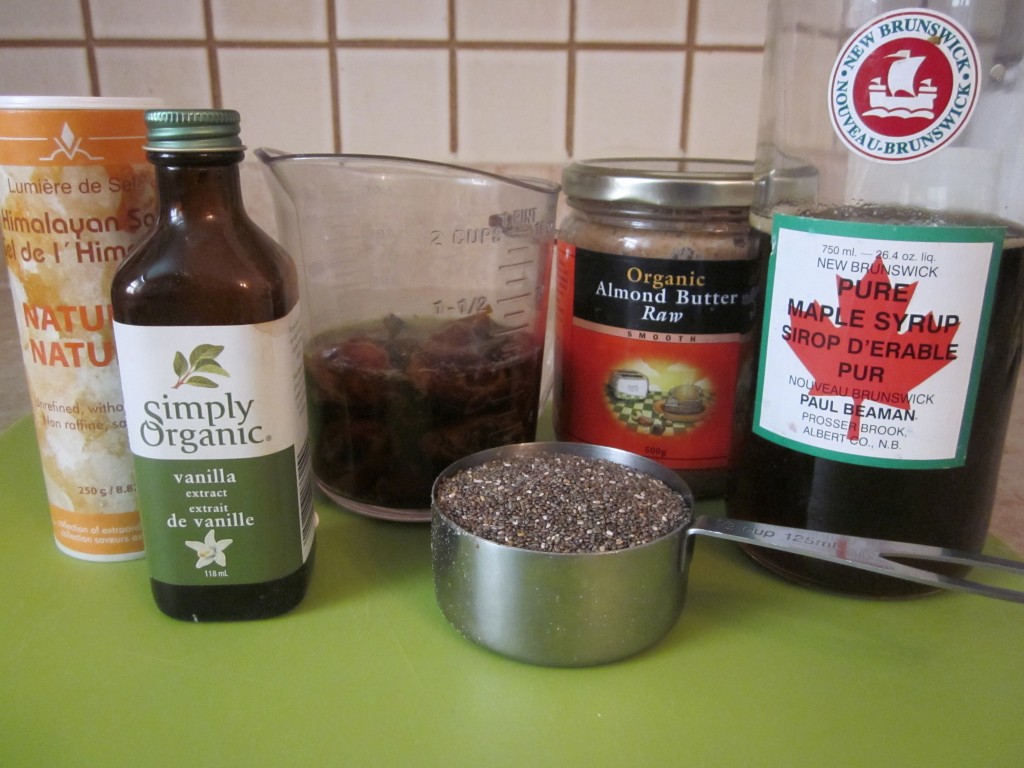 Put Brazil nuts in blender.

Grind the nuts, but leave them a little chunky.
note: I am using a high speed blender. I have ground nuts and seeds in a home blender successfully before but I have also burned the motor of them a couple times.  I only recall doing that with very thick sauces, such as making a cheese or hummus with it, and not for grinding nuts and seeds. But be careful if using a lower speed home blender as the motor does burn out more easily. If you are apprehensive, you can just chop up the Brazil nuts with a knife. Brazil nuts are soft and this will not be hard to do, as well, bits of nuts in the bars will give them a good texture.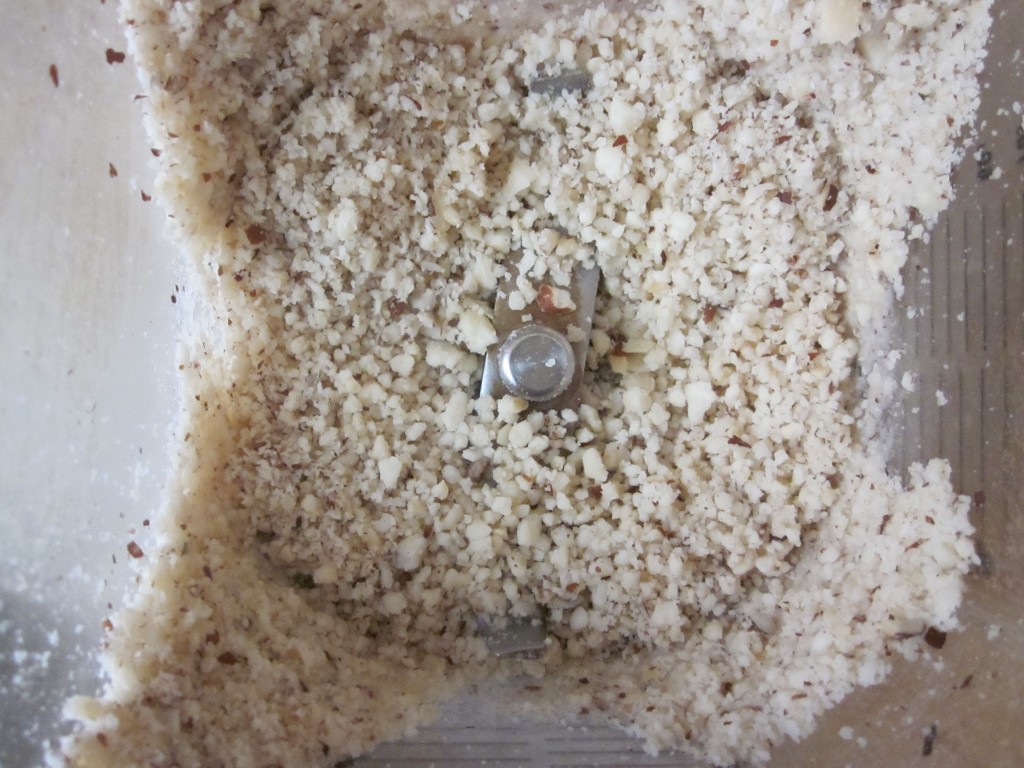 Put the chopped Brazil nuts in a bowl and then place all of the sauce ingredients in the blender.

Blend until the dates are broken up and a paste consistency is formed.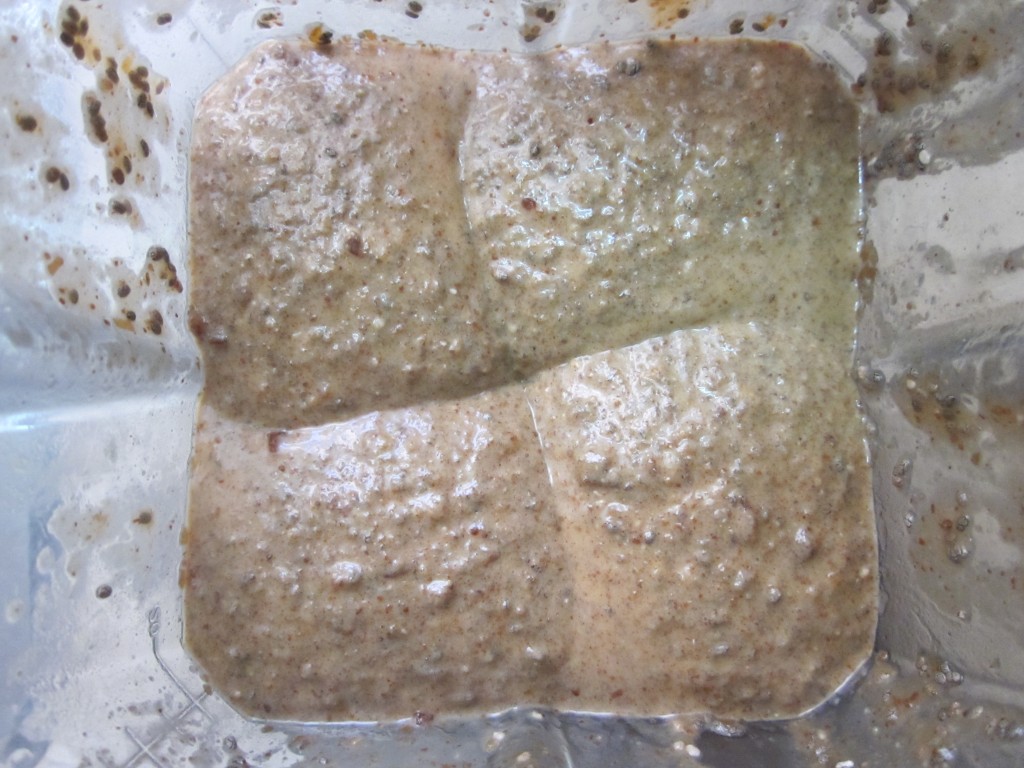 Put all of the dry base ingredients in a bowl.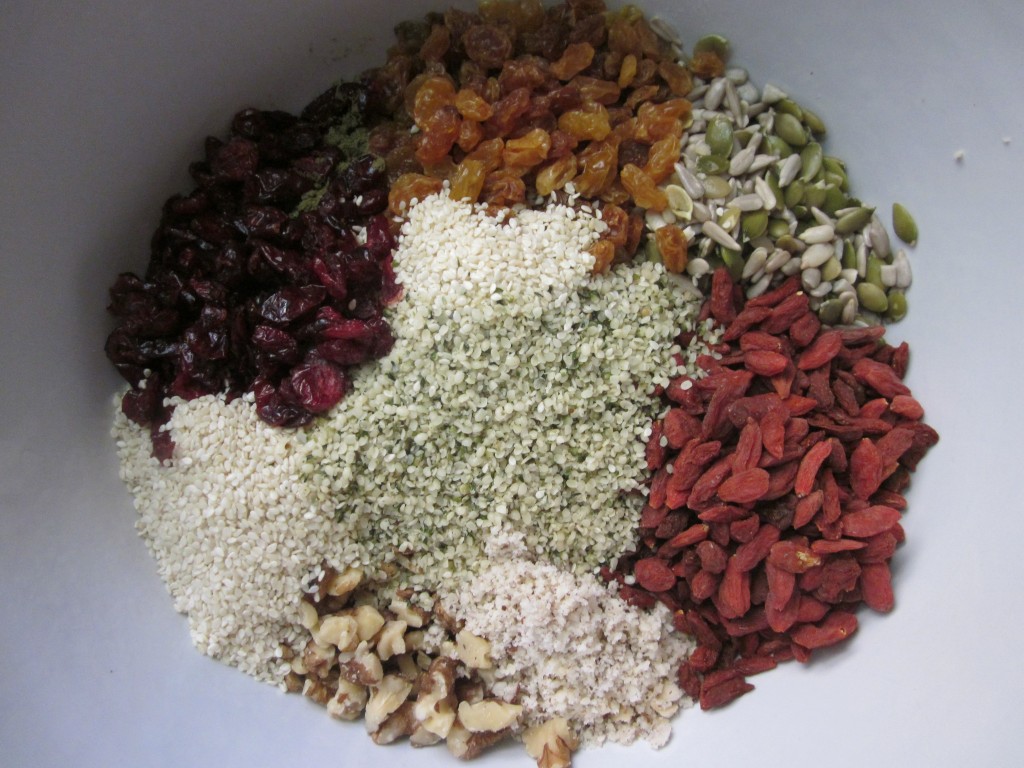 Add the sauce.

Mix well.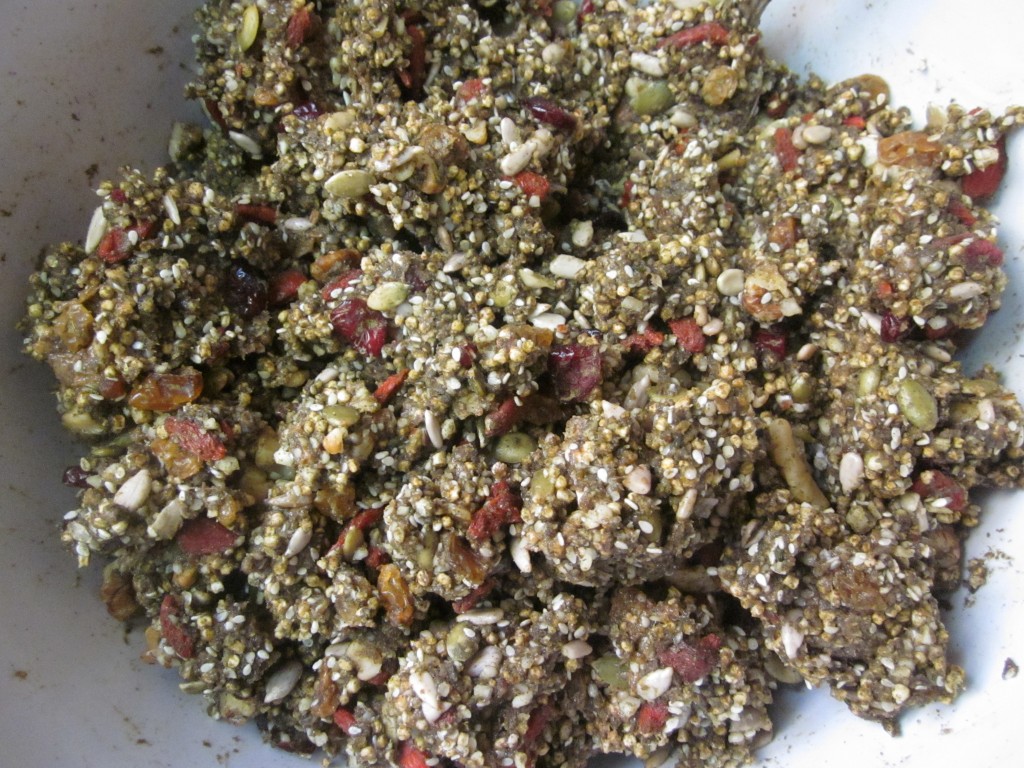 Spread out on teflex sheet on dehydrator tray.  I spread the whole batch out on one 14″ x 14″ tray.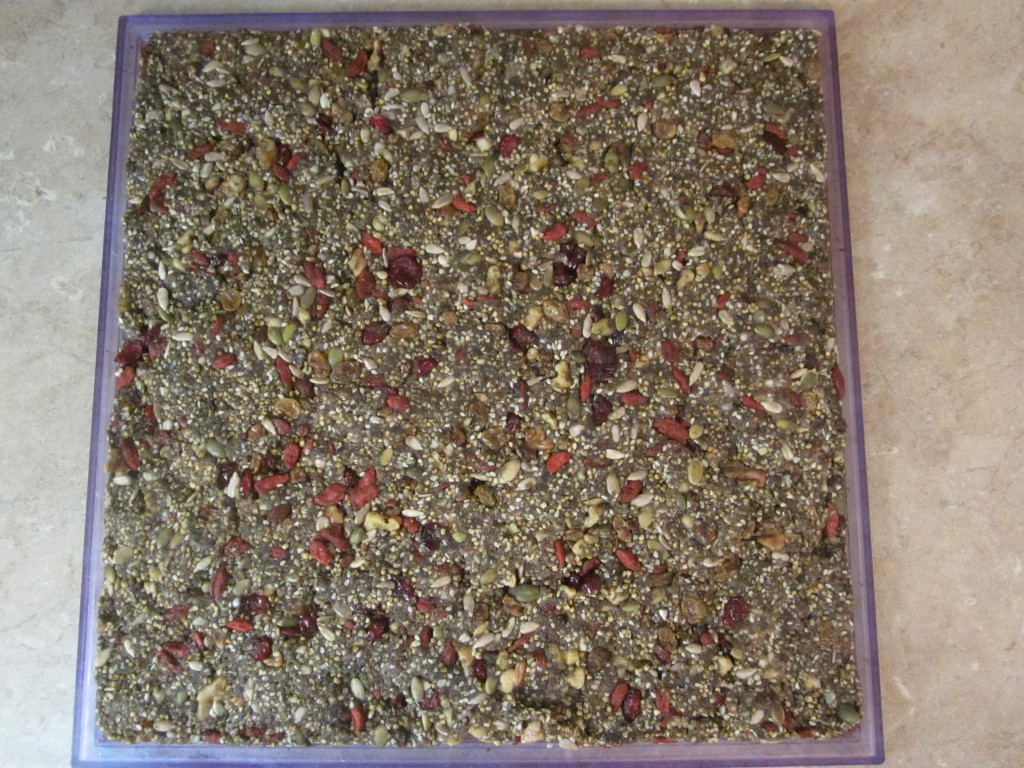 Score into bar sizes with a knife. I use a regular kitchen knife; the one you serve with a meal as it is not very sharp (to cut teflex below), yet cuts well through the bars.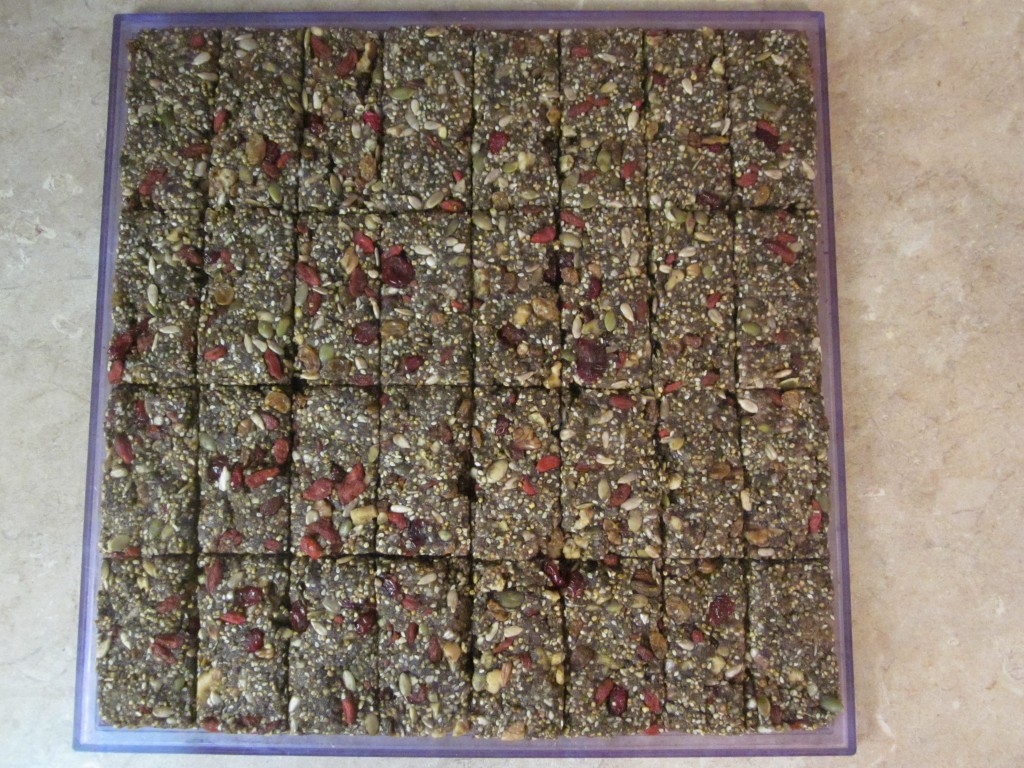 Dehydrate 5 to 6 hours total. halfway through flip onto a mesh screen so the air can get to both sides and it dries more evenly.  They are delicious straight from the dehydrator!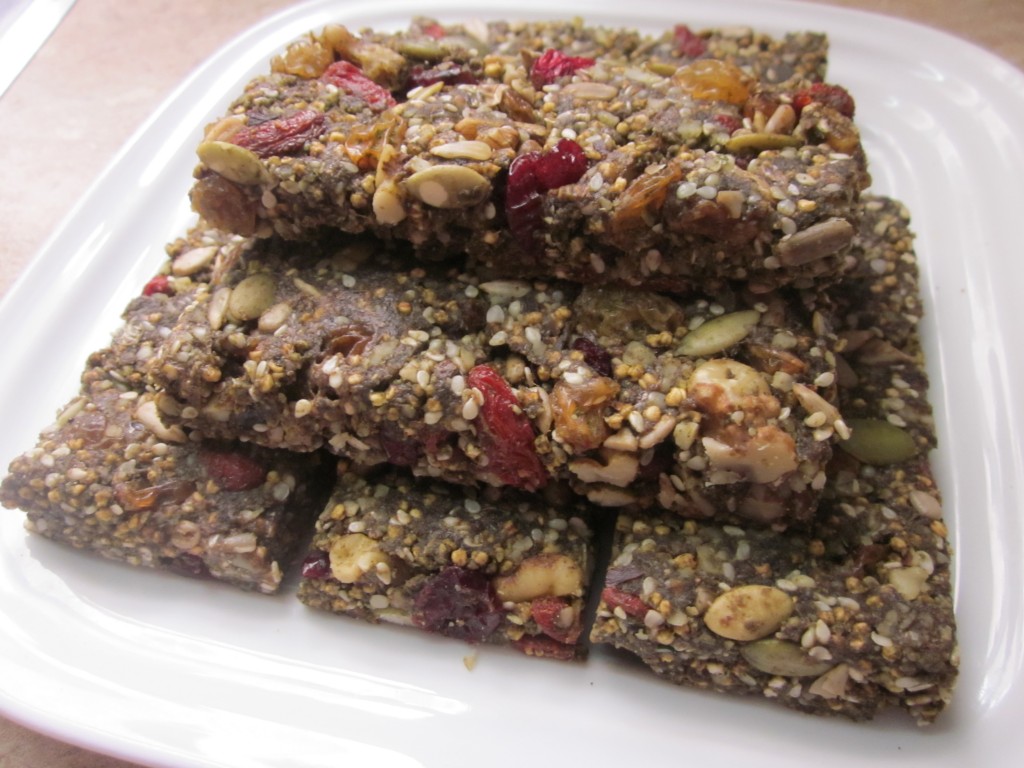 To your optimal health! Enjoy!