Homemade salsa, bursting with fresh flavors is the best and this salsa recipe has a wonderful combination of spices. One of the ingredients that really adds to it is the subtle flavor that a few celery leaves chopped up and added gives to it. They are undetectable but give it a bright fresh and slightly unique flavor. You can easily adjust the spiciness by adding more or less chili powder and jalapeno to it. If you like it spicy consider adding another type of chili to it also, from simply adding a little cayenne to it to adding other types of ground chilies. Combining different types of chilies adds depth to the salsa flavor. There are so many types of chilies you can try! If you like a smoky flavor, a little chipotle would make a great addition also. Salsa is a great place to get a little creative and experiment with using different chilies. 
I have discovered since making this recipe and video that to make the salsa a little thicker, more like traditional cooked salsas, you can soak a few sun-dried tomatoes and blend them with a little of the salsa (or with one of the tomatoes that you have set aside just for this). For this recipe try a quarter to a third cup of sun-dried tomatoes, soak and then drain them and then blend them with the tomato, or a little salsa afterwards and then mix it all back in together with the rest of the salsa.
Salsa Recipe
Ingredients
4 Tomatoes
½ Onion
½ Red Pepper
3 sprigs of Cilantro – finely chopped
2 Tbsp Celery leaves – chop down from top of stalks
1 Garlic clove
1 Jalapeno
1 Tbsp Apple Cider Vinegar (or fresh Lemon juice)
1 tsp Salt
½ tsp Chili powder
½ tsp Onion powder
¼ tsp Cumin
Directions
Chop ½ of the tomatoes, onion and red pepper and put into a bowl with the cilantro. Put the other ½ of the vegetables and the rest of the ingredients in a food processor or blender and blend until fine. Add to ingredients in bowl and mix. Let this sit together for a few hours for flavors to blend before serving. Store the salsa in an air-tight container in the fridge. It will keep for 1-2 weeks in the fridge.
How to make this Salsa Recipe on Video
Salsa Recipe finished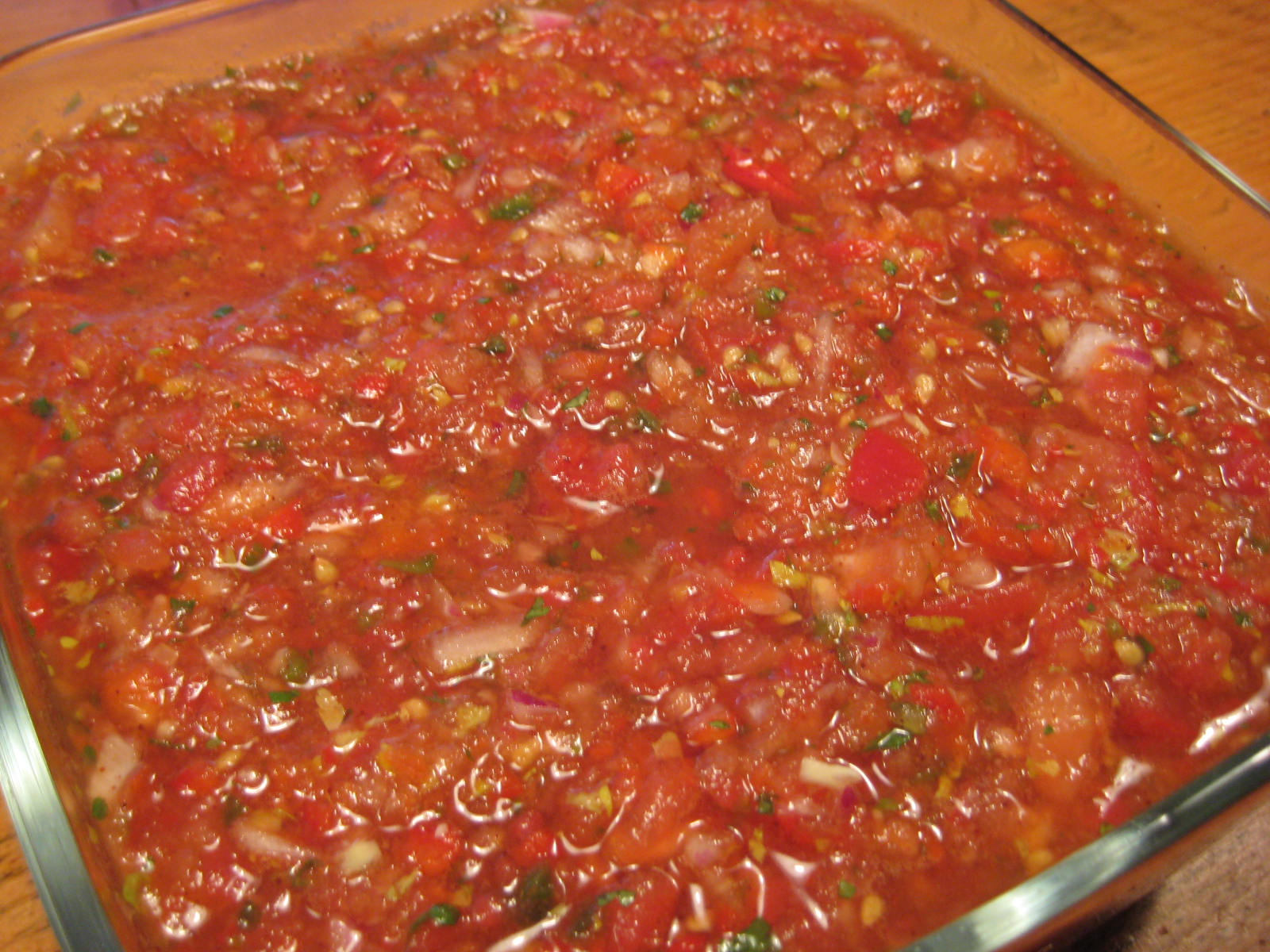 Enjoy!