Chickpea Quinoa Salad with Roasted Vegetables Recipe
02

This recipe was one of my favorites that I made last year for a chickpea diet book. It has roasted zucchini and fennel along with lots of herbs: parsley, mint and oregano, which together give an amazing flavor to this protein-rich chickpea and quinoa salad. 
The Original Chickpea Diet Book is great for those who eat cooked foods and want a good lean, clean, plant-based source of protein, great for weight loss. It is especially good for those who are new to, or want to become vegetarian, or vegan, and are concerned with getting enough protein in their diet. All of the recipes in it are vegan. You can check out the book here.
My resolution is to bring more raw, and green juices, into my life this year, but if you are eating cooked foods, this is one of the healthier cooked salads that is comforting, yet still nutrition rich, packed with healthy plant protein, flavorful and delicious.
Come join me in the kitchen. I took lots of pictures to show you exactly how to make this very tasty salad!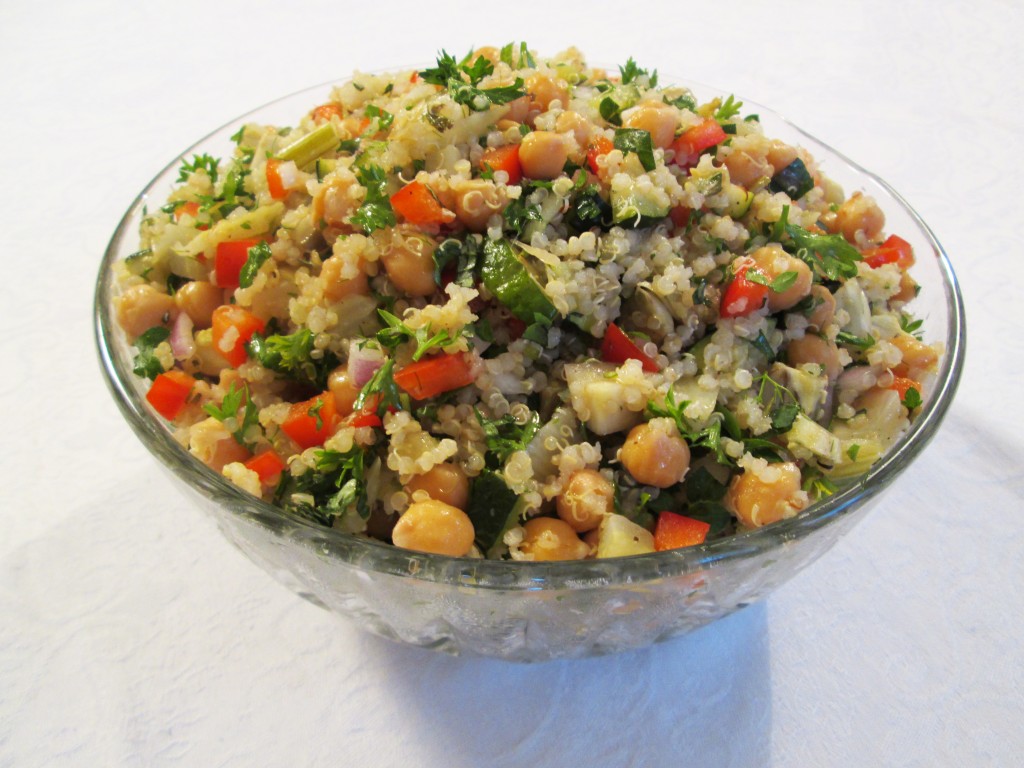 Chickpea Quinoa Salad with Roasted Vegetables Recipe
Ingredients
3 cups cooked Quinoa – 1 cup cooked with 2 cups water
2 cups cooked Chickpeas – if canned, use one 14 oz. can
1 small, or half a large, Fennel bulb
2 small to medium Zucchini
1 Red Pepper
¼ cup Red Onion
½ cup Parsley, about half a bunch
4 to 6 sprigs Mint
4 to 6 sprigs Oregano, or ½ tsp dried
1 Lemon – juiced
¼ cup Olive oil
1 to 2 Tbsp Agave or Honey
1 tsp Salt
Black Pepper to taste
Directions
Dice the fennel and zucchini. Place in a bowl and stir with one tablespoon olive oil to coat. Transfer to baking dish, sprinkle with a little salt and pepper and bake for about 40 minutes. Cook the quinoa. After the water has been absorbed and quinoa is cooked, remove from heat and cover pot with a tea towel. This will absorb excess moisture and make a fluffier quinoa. Chop the red pepper and onion. Remove any stems from herbs and chop up the leaves.
Mix the dressing. Juice 1 lemon and add 3 tablespoons of olive oil, honey, salt and pepper to a bowl and whisk to combine.
Add all ingredients to a bowl and stir to mix well. That's it. It's ready to serve. Makes approximately 8 cups.
Photo Description
Assemble ingredients

Chop zucchini and fennel. Place in roasting pan and add a little olive oil to coat.

Roast for 40 minutes.

While vegetables are roasting, cook quinoa and chickpeas.

Chop the rest of the vegetables and herbs.

  Get salad dressing ingredients together.

  Mix salad dressing and set aside.

Place the cooled roasted vegetables along with all the rest of the ingredients in a bowl.

Mix well.

Transfer to a serving bowl and it's ready to serve.

Enjoy!
In health and with love,
Robin