Black Forest Raw Chocolate Ganache Tart – Valentine Cake Recipe
14

This raw chocolate ganache tart was a huge sensation last night. We are starting Valentines early over here. I had to test this Valentine cake recipe and it went over incredibly well. in fact, it even got called a masterpiece. I loved that! It's the artist in me. Raw chocolate and cherries, what a way to celebrate Valentines! It is pure decadence, with the smooth, creamy rich chocolate filling intertwined with cherries, and all set into a brownie crust. It's mind blowing how delicious it is, and the most incredible thing is that it is actually is good for you! 

Raw Chocolate Nutrition
Raw chocolate far surpasses the traditional roasted cacao that virtually all processed chocolate is made from. Well, all processed chocolate  in major chain stores that is. More and more artisanal and health conscious raw chocolate makers are popping up as awareness grows regarding the incredible health benefits of  the cacao bean in its pure raw state. It's antioxidant rating (ORAC scale) is phenomenal. Take the substances with the highest antioxidant rating you can think of, like blueberries, acai or red wine and the level of raw cacao will be 4 times, or more, than any of them. It is off the charts, and considered by many to be the #1 nuritious plant food on the planet, fully loaded with abundant vitamins, minerals and phytonutrients. ..and this is just the chocolate!
.. even more nutrition!!
Coconut oil has been touted as another superfood, best known for it's great effects on brain health. Studies have confirmed this. It has a myriad of health related benefits but one of that sticks out for most of us is it's claim to fame as a weight loss enhancer. It used to be that many of us couldn't imagine a fat helping us to lose weight, but by now most of us are realizing that good fats really do help to clean the bad fats and toxins out of our cells, and actually help us to slim down.
Throw cherries in, and walnuts with their great EFA's too, and we have a superfood rich raw chocolate ganache tart that we can feel really good about eating. I do and I am having a slice right now for breakfast as I write this. Life is good!
Make one and join me in discovering the world of blissful health boosting superfoods. Yes, you can have your cake and eat it too.. and feel vibrant and energized after eating it too!

Black Forest Raw Chocolate Ganache Tart with Brownie Crust
Ingredients
Brownie Crust
2 cups Walnuts
2 cups Dates
1 cup raw Cacao Powder
1 tsp Vanilla
Ganache Filling
2 cups raw Cacao Powder
1 cup Coconut Butter
¼ c Coconut Oil
1 cup Maple Syrup
1 cup Cherries 
Directions
First process the ingredients for the brownie crust together. Stop processing just when you see it starting to stick together, and before it reaches the stage where it forms into a ball. Transfer crust dough to a pan and press in and up the sides of the tart or cake pan. Set aside.
Next make the ganache filling. Place the coconut butter and oil in a bowl. Then place this bowl into a larger bowl, or a pot with warm to hot water in it and let the coconut butter and oil soften. This will enable it to process more smoothly with the rest of the ingredients. Add this along with all ingredients except cherries and process until smooth and creamy. Add cherries and process lightly just to chop lightly and mix with ganache.  Transfer raw chocolate ganache into crust and smooth out to edges and smooth top. Let cool to set.
Serve and enjoy!
Photo Description
Assemble brownie crust ingredients.

Put crust ingredients into processor and process.

When it starts to clump together, it is ready.

Remove to the pan and press in. You do not need to oil the pan first, the crust will not stick.

Continue pressing down and make an edge on side with crust.

Assemble the raw chocolate ganache filling ingredients.

Place the coconut butter and oil in a bowl, and then in another bowl or pot of warm water.

Let sit until it warms up and softens. Stirring a bit will help it to soften quicker.

Place all ganache ingredients, except the cherries, into the food processor.

Process until smooth and creamy.

Add the cherries. They should be defrosted first. Instead of processing them in, you can chop them and stir them into the ganache. This will enable you to have bigger more uniform sized chunks of cherry in your finished tart.

The quicker way is to lightly pulse chop them into the ganache filling.

Transfer to the crust shell and smooth down. f I had fresh cherries available, I would have loved them to decorate with them. I just sprinkled a little cacao powder on top.

Cool to set for half an hour and then slice and serve.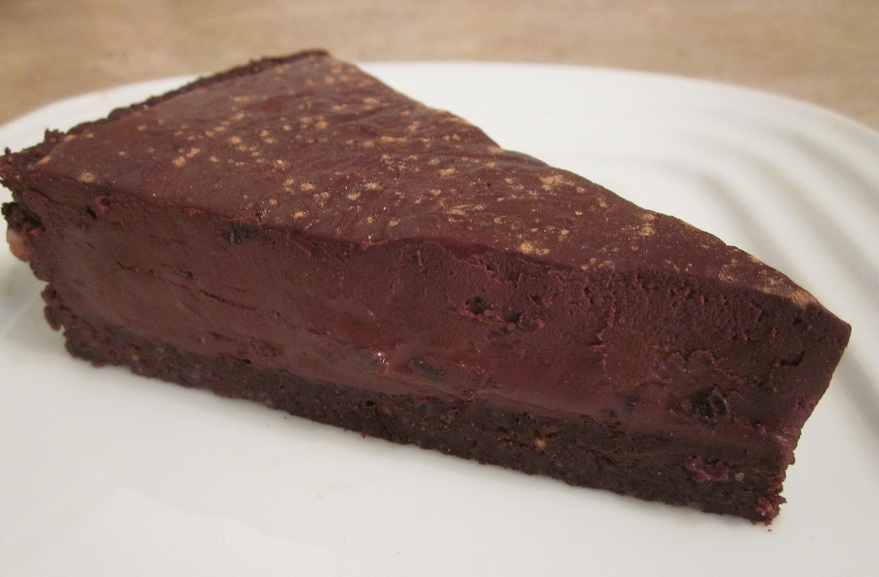 Enjoy! To your optimal health!