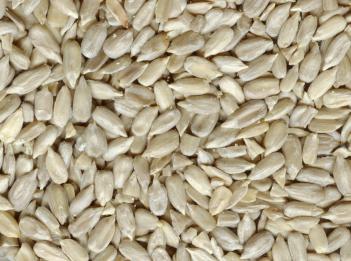 Sunflower Seeds are loaded with a variety of important and healthful nutrients, antioxidants and essential fatty acids.
 About – Sunflower seeds come from beautiful big yellow sunflowers. In the middle of the flower, surrounded by rays of petals, is its seed studded center, containing hundreds of edible seeds. Sunflower seeds are usually classified by the pattern of their shells. If the shell is solid black, the seeds are called oilseed; they have a very high oil content and are usually pressed for oil. Seeds with black and white stripes are called confectionery and are mainly used for food.
The sunflower is native to North America and Peru and is one of the first plants to ever be cultivated in the United States. They were brought to Europe by the Spanish and subsequently introduced to other neighboring countries. Sunflower seeds are now popular in countries worldwide
Nutrition – Mild tasting, nutty and crunchy sunflower seeds are a great source of many health benefiting nutrients, minerals, antioxidants and vitamins. They are one of the finest sources of the B-complex group of vitamins and include: thiamin (B1), riboflavin (B2), niacin (B3), pantothenic acid (B5), B6 and folic acid (B9). They also contain vitamins A (beta carotene), C, E and K. They are an excellent source of vitamin E, a powerful antioxidant with significant anti-inflammatory effects and that plays a very important role in the prevention of cardiovascular disease. The minerals in sunflower seeds include: potassium, phosphorus, calcium, magnesium, iron, manganese, zinc, copper and selenium.  Potassium is essential for the body's growth and maintenance. It plays an important role in keeping balance of body fluids in cells and heart function. Magnesium has many important functions in the body including energy production. The combo of potassium and magnesium with calcium is beneficial for your bones. Calcium also eases insomnia, and regulates the passage of nutrients through cell walls and helps nerves carry messages. Selenium is an antioxidant that inhibits cancer cells and has been shown to induce DNA repair to damaged cells. Sunflower seeds are a very good source of proteins with fine quality amino acids such as tryptophan that are essential for growth. They are especially rich in poly-unsaturated fatty acid linooleic acid, which comprise more 50% fatty acids in them. They are also good in mono-unsaturated oleic acid that helps lower LDL, the bad cholesterol. In addition, they are abundant in phytosterols that reduce blood levels of cholesterol and other beneficial antioxidant poly-phenol compounds.