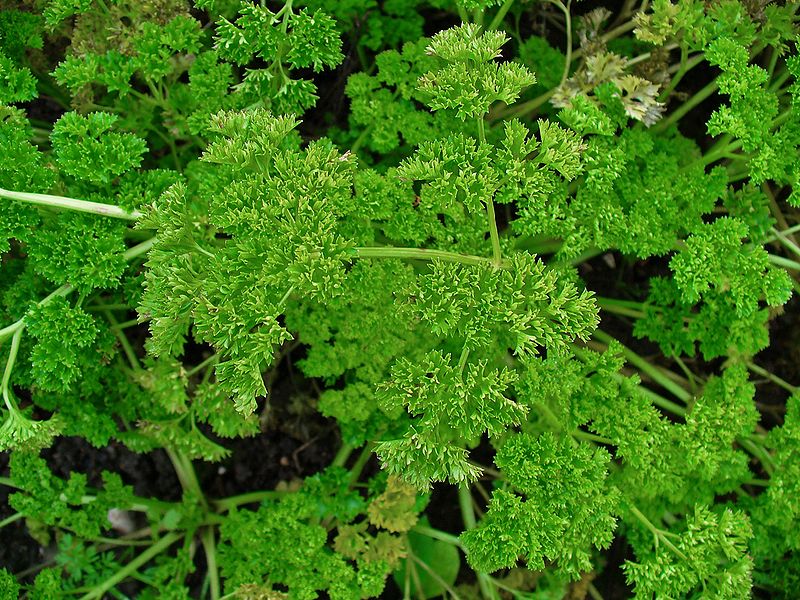 Parsley is the world's most popular herb and it has one of the highest in nutritional profiles of all the green leafy plants.
About – It has been cultivated for over 2000 years and shows in ancient texts that it was a medicinal plant before being consumed as food. Garden parsley is a bright green herb that is a biannual plant in warmer climates and an annual in more temperate ones. It can be found year round at most supermarkets. There are 2 main varieties of parsley: curly leaf and flat leaf, also known as Italian parsley.
Nutrition – Parsley has a wide range of vitamins and minerals and abundant chlorophyll. It has so many benefits to the body it is almost impossible to name them all, but here are a few.  Parsley enhances the immune system, provides glandular support and helps to balance hormones. It has a high concentration of enzymes and is excellent for the digestion, improving the digestion of proteins and fats and aids intestinal absorption. It helps clean and repair the blood cells and improves kidney function by helping eliminate waste from the blood and tissues of the kidneys, as well as liver and bladder and aids in cleaning toxins from all tissues in the body. Parsley is one of the most potent disease-fighting herbs; a powerful antioxidant that inhibits tumor formation.  It helps reduce fatigue and it has iron as well as vitamin C, so it gets better absorbed and thus reduces chance of anemia or dizziness. The vitamin K in parsley helps bones to get the minerals they need to form properly. Parsley helps to dissolve cholesterol and is antibacterial, inhibiting the spread of bacteria, fungi and other organisms. It is high in oxygen and suppresses viruses and helps clean out toxic residues from the lungs. It is a diuretic and can help with weight loss.  Parsley is made up of 20% protein and makes skin and nails stronger.