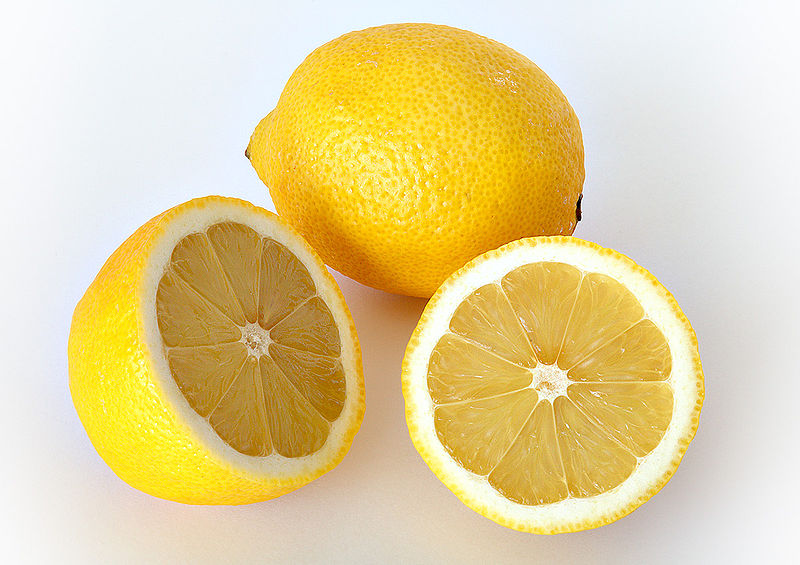 Lemons have strong antibacterial, antiviral, and immune-boosting powers. They are an effective weight loss aid, digestive aid and liver cleanser.
About – Lemons are the oval shaped yellow fruit of the lemon tree, a small evergreen tree native to Asia. Lemons have a texturized outer peel and, like other citrus fruits, their inner flesh is encased in segments. Most lemons are tart, acidic and astringent with their juice containing 5-6% citric acid, which gives them their sour taste and a ph of 2-3. There are also some varieties that are sweet in flavor, such as the Meyer lemon.
Nutrition – Lemons contain very high levels of vitamin C, providing about 88% of our DRI, a powerful water soluble natural anti-oxidant that helps the body develop resistance against infectious agents and scavenge harmful free radicals from the blood. They are also a good source of thiamin (B1), riboflavin (B2) pantothenic acid (B5) and B6. Lemons contain copper, magnesium, manganese, iron, phosphorous, potassium and calcium with small amounts of zinc and sodium. As well they contain a variety of phytochemicals and an abundance of flavonoids. Lemons provide an anti-inflammatory effect n the body and are an immune system modulator. Its antioxidants not only scavenge free radicals but also reduce oxidant injury to DNA  in cells. Lemons contain soluble and insoluble dietary fiber, which has been found to be helpful in reduction in the risk for cancers and many chronic diseases from obesity to arthritis and coronary heart disease. Lemons contain no saturated fat or cholesterol. Citric acid is a natural preservative and aids digestion. As well, studies have found that citric acid help dissolve kidney stones. Lemons are beneficial for digestion, treating arthritis, boosting the immune system, treating infections and are beneficially used for dental, hair and skin care.