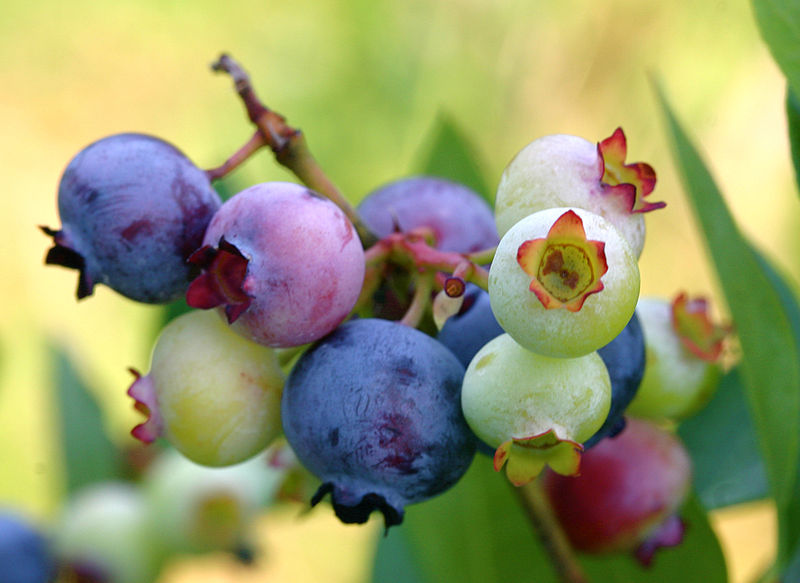 Blueberries are nutritional superstars and native to North America where they grow throughout woodland and mountainous regions.
About – They are rarely found growing in Europe and have only recently been introduced to Australia. There are approximately 30 different species of them and range in flavor from sweet to tangy. Cultivated varieties tend to be more sweet and mild compared to the smaller wild varieties, which are lower bush blueberry shrubs. Blueberry season is from May until October.
Nutrition – Blueberries are high in vitamins A, C, E and beta carotene, and in minerals potassium, manganese and magnesium. They are very high in fiber and low in fat, sodium and calories. Blueberries are powerful antioxidants and contain anthocyanins which give them their color and have been shown to reduce heart disease and cancer, as well as cataracts, glaucoma, varicose veins, peptic ulcers and hemorrhoids. They have also been shown to enhance the effects of vitamin C, improve capillary integrity, and stabilize the collagen matrix. Blueberries contain ellagic acid which is shown to bind cancer causing chemicals and render them inactive and catechin which has a diminishing effect on plaque formation. Blueberries contain lots of fiber, both insoluble and soluble pectin, as well as tannins which help reduce inflammation.  Blueberries are related to and contain the same compounds found in cranberries which help prevent or eliminate urinary tract infections, by reducing the ability of E. coli, the usual root cause of them, to adhere to tissues and cell walls. Blueberries also contain reservatrol, which is known to be an anti-cancer, anti-viral, anti-inflammatory and neuro-protective substance which promotes longevity.