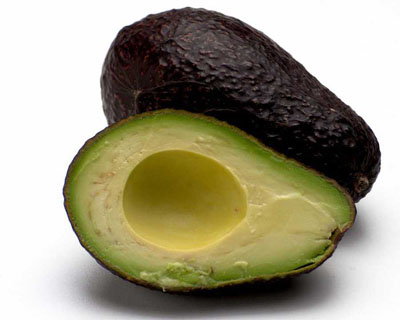 Avocados were known by the Aztecs as "the fertility fruit" and its name comes from Nahuatl, as the word for testicle, which refers to the shape of the fruit.
About – The avocado tree is native to Mexico and is related to cinnamon, camphor and bay laurel. There are dozens of varieties of avocados, which may be pear shaped to round and can weigh anywhere from 8 ounces to 3 pounds depending on the variety. Avocados are cultivated in tropical climates throughout the world and also California, which is more temperate. Avocados are unique in that they are pretty much the only fruit that does not ripen on the tree and will only ripen after harvesting.
Nutrition – Avocados have one of the richest sources of fiber among all fruits and vegetables. They are abundant in nutrients and packed with vitamins and minerals, highest in A, several B-complex, especially folic acid, C and E, which are powerful anti-oxidants, and they are loaded with calcium, magnesium, phosphorus, iron, copper and potassium. Avocados are low in sugar and starch. They have a very high fat content, but it is a healthy monounsaturated fat, which is beneficial and speeds up the metabolic rate, as compared with saturated fat. Their fat content will also give a quicker feeling of satiation and fullness, reducing temptations to go for other foods high in sugars and saturated fats. In addition the abundance of nutrients, important to a wholesome diet, also helps the body to feel satiated and aids in moderate intake.