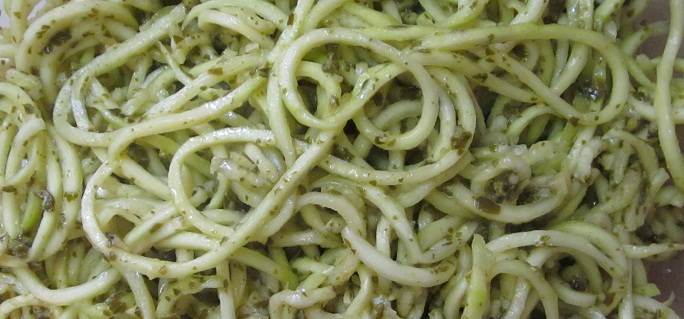 This delicious, rich and flavorful basil spinach pesto sauce is so easy to make. For even more flavor and when in season, you can use more basil in this recipe. Basil is one of my favorite herbs and I grow lots of it in my garden. The plants are just getting big enough to take enough leaves to make it fresh now.
At the end of the season, I usually take the leaves and wash and dry them well. Then process them lightly and add some olive oil to the chopped leaves. Then I put the basil/olive oil combo into ice cube trays and freeze to harden and after transfer them to a freezer bag, so I can have basil from my garden all winter long, or as long as it lasts. The smell when using this basil in the winter is like bringing summer back into your kitchen.
This is one of my favorite recipes to use my basil leaves in!
Basil Spinach Pesto
Ingredients
4 c Spinach
1 c Basil leaves
1 c Pine nuts or 1 c Sunflower seeds*
¼ c Olive Oil
juice of ½ Lemon
3 Garlic cloves – minced
¼ t Salt
*If you are using sunflower seeds, make sure to soak them first. Read article on soaking here! Don't soak pine nuts, they are too soft, just use them as they are.
Directions
Wash and measure spinach and basil leaves. Rinse and drain sunflower seeds, if you are using them. Place all ingredients in a food processor and process them all together until all ingredients are well processed together and pine nuts or seeds are just slightly chunky. Serve over zucchini pasta. Pesto will keep for 1-2 weeks refrigerated.
Here's How to Make it
Basil Spinach Pesto is great on zucchini noodles or for a change you can use it instead of tomato sauce on a pizza.


Enjoy!